FIFA 18: Functions and Secrets of the Web App
FIFA 18's Web App is already a must-have for gamers: Pink Creations, Market and Unlock Challenges are just some of the features in the tool.
FIFA 18 has already imposed its undisputed domain on the current video scene.
EA Sports, who has come to the 25th edition of the football simulation excellence, can boast the monopoly on an ever-expanding world of players, who each year test their abilities among the new title modes.
The importance of Ultimate Team, both as a game mode and as a social phenomenon, has led the software house to create an ad hoc Web App already from FIFA 13, which has always had the main purpose of allowing gamers to cure
the dynamics of your club even outside your console.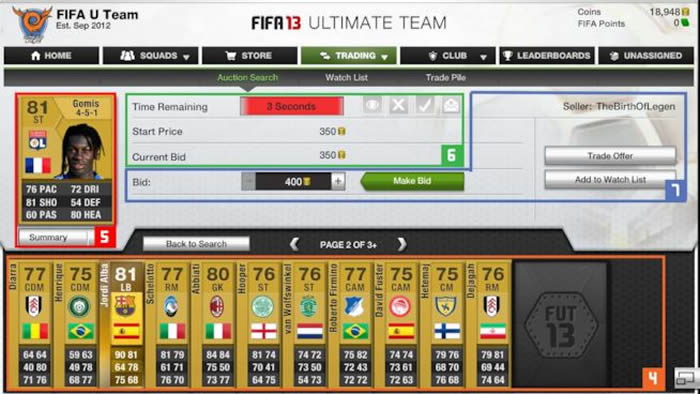 In the beginning were web browsers to embrace this feature, with real apps for mobile devices that have been developed almost simultaneously to give players the ability to keep track of all the details of their gaming experience, market management
of the Rose.
With the advent of FIFA 18 we are faced with an intuitive and comprehensive app that also allows you to play Rosa Creations Challenges directly from your devices.
Additionally, you can create, delete, modify and update your roses, to which you can associate various in-game consumables (contracts, styles, role change, and injury care).
Fundamental is also the market-related function, which gives access to immediacy - especially in sniping - which sometimes exceeds that of the consoles.
The new "goal" feature also allows access to pre-set bonuses by completing mini-quests daily and weekly.
Finally, you should not forget the part dedicated to the FIFA 18 store, which will allow gamers to buy classic packages in the Ultimate Team through credits or FIFA Points.
The FIFA 18 Web App is available in its Companion version for Android and IOS devices.
The minimum operating requirements include an updated Android version at least 4.4.2 and 9.3 for IOS.
The web version requires WebGL support, and is supported by browsers such as Google Chrome, Safari (Mac only), Firefox, Opera, and Edge.
Internet Explorer, on the other hand, is only supported in version 11. The EA account associated with its email address will be the same as accessing the app, which can not be used when connecting to FIFA 18 on consoles or PCs,
so it is important to make sure that you have disconnected from FUT, returning to the main menu before turning off the gaming device.
If this is not done you will have to wait before logging in to the Web App. In the event that gamers use multiple accounts on the title, you can switch from one profile to another via the dedicated option between the application settings
.
Access will be authenticated as soon as disconnection from the current profile is made.


Cheap FIFA 18 Coins is 100% safe on F14c.com

Our FIFA 18 Coins are hand-made by our expert gamers and bots or macros are never used, which secures your account to a large extent and makes you level up safely and steadily.
Therefore, please rest assured to Buy FUT 18 Coins on F14c.com.

Buy cheap FIFA 18 Coins with fast delivery on F14c.com

We promise that we will do everything possible to get your FIFA 18 Coins order completed as soon as possible.
You do not have to wait for a long time when dealing with us.
And our 24/7 customer service team are friendly and skillful, we can offer you the best service on facebook and forum at the same time.

Payment methods are safe on F14c.com

When choosing a place to Buy Cheap FIFA 18 Ultimate Team Coins, security comes first.
F14c.com provides various types of widely used payment methods, and each method is 100% safe.
You can choose one that is convenient and easy for you to pay for the order.
Also, your personal information and transaction information are safe all the time.

If you want to enjoy the fast delivery and 100% security of cheap FIFA 18 Coins, then you can buy some FIFA 18 Coins on F14c.com.
It will be helpful for you to play the game smoothly without getting banned.
Quick Buy


24/7 Online Support
------------------------------------
Hot Tag