FIFA 18: Prepare Yourself Before Starting Game
It takes skills to do anything in our life, the same as playing video games. With skills, one can get twice the result with half the effort. For FIFA 18 gamers, especially for newbie, knowing what to do before starting FIFA 18 is a very important thing, those basic information will help them better access to the game state. Today, we will talk about what we need to prepare prior to the release date.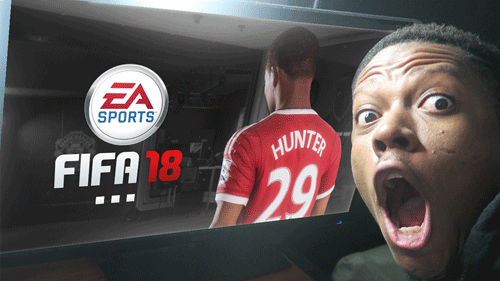 Start At Your Earliest Convenience
The sooner you start FIFA 18 Ultimate Team, your chances are greater of being successful. This is due to the beginning of the game being the most important time.
With the passage of time the market will tend to become more and more stable. If you know what you're doing you'll get a good head start. It's just a question of knowing how to identify the opportunities and being able to predict how the market is going to develop.
Your profit won't just reflect in coins. If you do everything earlier, you will have bigger chances of forming a superior team compared to the competition and with that potentially win more games, which means more coins. With more coins you'll build a better team and so on.
Pick a Name
When starting the game for the first time, you'll be asked to maintain the name of your club (exclusive to returning players) or if you choose to pick another one. If you choose to abdicate your antiquity will be reset.
Insert the name you chose but have in mind you can't change it without the right item from the EASFC catalogue or through the Managers Tasks. You only have one try and even so it requires that you have reached the level 20 of experience XP which you may not have. Pay special attention to this step. You want a perfect club and just remember, more haste less speed. If you need help to pick a new club name, check our suggestions here.
Buy Contract Cards
As we've told you, the contract cards have an important strategic role. If a player is injured or physically tired, you can put him in the bench or in the reserves until he recovers instead on applying an injury card or a fitness card. That however is not valid when a player is without contracts. The only way of making him play again is by applying a contract card. This has to be done. Period.
That's why it makes perfect sense to buy contracts as soon as possible, especially if you plan to play the Weekend League. With the 50% bonus the managers offer you and with cheap contracts, you won't ever need to think if the game prize is enough to cover your costs.
Hire Managers
Now that you have some coins it's time to make the first investment for the exclusive satisfaction of your club. The managers and the contracts should be the first, because they normally represent small investments.
Managers are the most important staff in FIFA 18 Ultimate Team and it's easy to understand why. They can be the solution to a problem you should manage with extreme caution: contracts. These are the only consumables you are forced to buy to be able to play. Due to its strategic position in the game they tend to be extremely expensive. These are so expensive that a lot of people can't gather enough coins to support them. More importantly than getting cheap contracts is guaranteeing it affects capacity to the max. This is thanks to managers in your club.
Most of the gold managers contributes with a raised percentage on all contracts: the rare gold with 3% and the non-rare with 1%. The silver rare manager also contribute with 2%. You can hire managers so that the sum of your percentages equals 50%. This means that when applying a contract card to a player the number of games on the card will be added 50%. In a long-term step this will be extremely beneficial and in the short-term it will guarantee your match prizes to be superior than your spent contracts. The sustainability of your team will be guaranteed.
If you want to see more game articles and guide, please keep an close eye on our website f14c.com, We also have Cheap
FIFA 18 Coins Account for Sale
with special discount.
Quick Buy


24/7 Online Support
------------------------------------
Hot Tag